SmartCash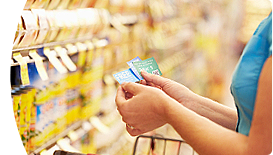 SmartCash is an efficient online gap analysis tool driven by wholesalers' actual shipment data. See true gaps in distribution and also identify the most loyal stockists of products.
SalesOut's Smartcash is used to drive target marketing campaigns to wholesale customers in both retail and catering business types.
Wholesalers deploy SmartCash in several guises to help suppliers drive distribution to these customers with the most potential to sell supplier products.
Supported by tailored marketing and voucher campaigns bespoke to each customer, the Smartcash product maximise return on investment by focussing investment to a narrow, high capacity to sell audience.
Retail and Catering customers receive deals relevant to them and as such, conversion rates and ROI is unparalleled. Returns on investments are measured by SalesOut and are sizable when compared to other voucher campaigns, with market leading redemption rates backed by significant repeat purchases at exceptionally low entry costs.